Download a TI graphing calculator program
You're about to download All-Algebra Tools by neel.
Download the file and save it to your hard drive. Attach one end of the link cable that came with your calculator to the top of the calculator and the other end into a USB port on your computer.
Download TI Connect and put the shortcut on your desktop.
Find the program you downloaded and drag-and-drop it onto the TI Connect icon as shown below. Click 'Send to Device' and the program will be sent to the calculator.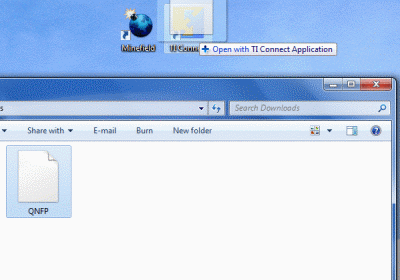 Save time and make your life a whole lot easier with hathix.com's powerful, hand-crafted, and super-useful graphing calculator programs. Click on a program you like to download it, or upload your own!
Program name
Tags
Description
Quadratic Calculator
by neel
quadratic
quadratic calculator
factoring

The deluxe quadratic calculator with support for imaginary numbers, showing your 'work', and more.
Blackjack
by David Kahn
games
cards
blackjack
poker

Beat the dealer in this classic game of blackjack. It uses real odds and tracks your scores.
Cubic Calculator
by neel
cubic
cubic calculator
cubic equation

The deluxe cubic calculator with support for imaginary numbers, showing your 'work', and more.
Yet Another Solving Program
by neel
solver
solving
equation

A simple but remarkably powerful program that can solve for X in almost any equation.
Pong
by David Kahn
games
pong
arcade

Another classic by David Kahn. Bounce the ball around but don't let it fall off the screen.
Tag Runner
by David Kahn
games
tag runner
action

Evade your enemies in this fun action game.
Dodge
by David Kahn
games
dodge
snake
action

Guide your snake so he doesn't hit any boxes in this fast-paced action game.
Quadratic Calculator Lite
by neel
quadratic
quadratic calculator
factoring
lite

A smaller, simpler version of the deluxe Quadratic Calculator. Finds both roots.
Pythag
by neel
pythagorean theorem
triangles

Solves for any side of a right triangle using the Pythagorean Theorem.
Physics Constants
by physicsgeek
physics
constants

Contains several important physics constants such as acceleration due to gravity and speed of light.
QNFP
by neel
qnfp
factoring
factor
factoring

QNFP's Not a Factoring Program. It just finds all the factors of a given integer.
Star Shooter
by David Kahn
games
shooter
arcade
action
starshot

A classic arcade game: shoot the enemy ships before they reach your end of the screen.
All-Algebra Tools
by neel
algebra
solving
utility

A collection of 20+ useful algebra/geometry utilities. A must-have!
Minesweeper
by David Kahn
games
minesweeper
strategy

The classic game of minesweeper brought to the calculator. What more do I have to say?
Molar Mass
by molefraction
chemistry
mole
mass

Calculates the molar mass of any molecule.
Upload a program